Fall is our favorite time of the year at Kid to Kid! We love the smells, pretty leaves, and yummy treats. Take advantage of this fleeting season with the fun activities below!
Pumpkin Painting
This activity can really count as three in one. Everyone loves to carve pumpkins, but give this classic activity a twist with something safer, easier and more kid friendly by painting the pumpkins instead.
Step 1: Spend an afternoon with your kids at a local pumpkin patch and let them search out their favorite pumpkin. By letting them choose, they'll be more likely to be engaged in painting the pumpkin because of the effort it took in making it theirs.
Step 2: Get a few colors of paint and let each child have their own paper plate as their palette. This is a great activity for them to do with friends, or as a whole family.
Step 3: The biggest advantage of painting pumpkins instead of carving is they last a lot longer. That's why we like to use sugar pumpkins so they can be repurposed into a delicious treat for your family. After a few weeks of providing festive decoration, recruit your little helpers and make a yummy pumpkin flavored treat together. We love chocolate chip pumpkin bread, and of course, pumpkin pie!
Make Leaf Garland (that's actually pretty)
We all love our kids' crafts because we love our kids, but let's just say we don't always LOVE hanging them on the walls for extended periods of time. Amiright?
For kids who are a little older, try this glittery leaf garland, and hang up something that actually goes with the decor. We love this idea from 6th Street Design School!
Swimming in Leaves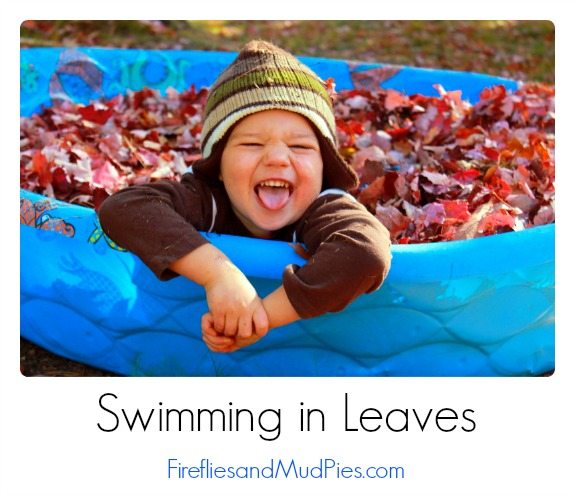 There's nothing like jumping into a pile of leaves, but it's almost not worth it for the raking it requires afterward. Keep the leaves contained with leaf swimming in a plastic pool! Not only does it ensure the leaf pile stays nice and fluffy, but it makes less work for you to clean up. Thanks for this great idea from Fire Flies and Mud Pies!